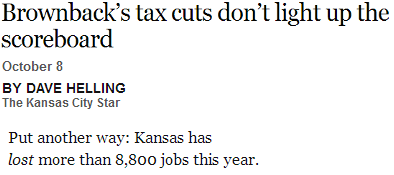 The Kansas City Star carried a story about Kansas jobs and unemployment. The claim was made that "Put another way: Kansas has lost more than 8,800 jobs this year."
Kansas Representative Paul Davis, a Democrat who has said he will run for governor next year, linked to the article on his Facebook page and made a statement based on the job loss claim, writing "Kansas has lost nearly 9,000 jobs in 2013."
I don't know what data the Star reporter relied on, or what computations he made. I gathered statistics from the Kansas Department of Labor. I've made them available here, and a chart is below.
Job levels can be seasonally adjusted, or not. Using the seasonal data, total non farm employment in Kansas rose from 1,366,900 in January to 1,372,000 in August, the last month for which data is available.
Using the not seasonally adjusted data, jobs rose from 1,347,800 in January to 1,361,900 in August.
Maybe the reporter used a different range of dates. I don't know. If we use the not seasonally adjusted job count from December 2012, which is 1,376,300, the job count in August is less, but by a number not close to the number in the story. Using the seasonally adjusted number for December 2012 produces a gain of jobs since then.