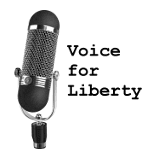 In this episode of WichitaLiberty Radio: United States Representative Tim Huelskamp recently spoke to the Wichita Pachyderm Club.
Congressman Huelskamp was born near and raised on the family farm in Fowler, Kansas. He earned a Ph.D. in Political Science with a specialization in agriculture policy from The American University in Washington, D.C. He was first elected to the Kansas Senate in 1996, and then re-elected three times. In 2010 when Jerry Moran stepped down to run for the United States Senate, Huelskamp ran for the United States House of Representatives for the first district. That's commonly called the "Big First" district, not because of its population, but because of its large land area. Some of the principle cities in the first district are Liberal, Garden City, Dodge City, Hays, Salina, Hutchinson, Emporia, and Manhattan. Congressman Huelskamp appears frequently on national news media as an advocate for conservative causes, and he recently appeared on WichitaLiberty.TV, which you can find here. He and his wife Angela are the parents of four children.
This is podcast episode number 7, released on January 26, 2014. Here is a portion of United States Representative Tim Huelskamp at the Wichita Pachyderm Club on January 24, 2014.
[powerpress]
Shownotes
Congressman Tim Huelskamp
Tim Huelskamp for Congress campaign site
Extortion: How Politicians Extract Your Money, Buy Votes, and Line Their Own Pockets