Another nonsensical editorial from the Wichita Eagle.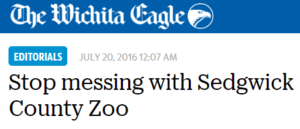 This is contained in an editorial urging Sedgwick County government to "stop messing" with the zoo.1
Nor is there any justification for a "non-disparagement clause" in the proposed operating agreement about the zoo director's public statements, including a prohibition against doing anything to bring the county or society "unwanted or unfavorable publicity." Even if the county is right — and the society wrong — about the constitutionality of such a gag rule on a public employee, it's an insult to longtime director Mark Reed's professionalism and another case of the county trying to pre-empt criticism and punish critics.
It's common for employees, especially those in managerial and executive positions, to have such agreements. Companies don't want their employees bad-mouthing the company. I would not be surprised if Holman herself has such an agreement with her employer, the Wichita Eagle. Even if there is no such agreement, can you imagine how long she would last in her job if she started complaining in public about her low pay, her drab office, how her editor censors her best editorials, the crappy publisher, etc.
Employees have protection through whistleblower laws, so if there is corruption or criminality, employees can report it. And the fact that the zoo director is a government employee: I don't know if that makes a difference, constitutionally speaking.