In its coverage of the 2015 election, the Wichita Eagle prints several stories that ought to cause readers to question the reliability of its newsroom.
Readers of the Wichita Eagle must be wondering if the newspaper trusts its own reporting. In a fact check article regarding the Wichita mayoral general election printed on March 27, the newspaper looked at claims made by campaign ads. The story examined this claim from an advertisement by Sam Williams, referring to opponent Jeff Longwell: "Supported government handouts for low-paying jobs and then chastised voters when they rejected his plan."
The article's verdict on this claim: "There is no apparent reference to 'chastising' comments in the blog posts or article."
Here's what the Eagle itself reported on September 14, 2011, regarding the possibility that citizens might petition to overturn a measure Longwell supported. I've emphasized a few portions.
City council member Jeff Longwell called the petition drive "disappointing." "We had a very transparent, open hearing, listened to both sides, listened to all of the arguments," Longwell said. "We moved in a direction we felt was most compelling, and now you have a group that still is unhappy and it is just sour grapes. I'd argue that when they keep pulling these kinds of stunts, they will continue to lose credibility.
The dictionary holds this definition for chastise: "To criticize severely; reprimand or rebuke." I'd say that Longwell's criticisms fit this definition. It's unknown why the Eagle reporters and editors came to a different conclusion.
This is not the only example. Here's the start of the newspaper's profile of Longwell:
It's 4:45 a.m. on a Friday, and Jeff Longwell is playing basketball with a group of guys at the Northwest YMCA. Three days a week, 10 to 15 men gather before dawn to shoot hoops. Sneakers squeak. Shouts echo. Longwell, 55, jokingly describes himself as a "prolific three-point shooter." "I don't think WSU is going to recruit me," he says, worn out after the game. The guys say that if Longwell is elected mayor, he still has to play with them. He agrees. Teamwork is his style, he says, and not only in basketball.
For the Williams profile, the article started with this:
Sam Williams sits on a cerulean blue couch in his campaign headquarters, nervously picking at the edges. "Stuck in the Middle With You" plays on the radio as volunteers – mostly family members – make calls, urging people to vote for Williams for mayor on April 7. For a few moments, a guy who spent a lifetime in advertising has trouble articulating why he should be mayor of Wichita. "It's uncomfortable for me having this conversation talking about me," Williams says, still picking at the couch.
The difference in the way the Wichita Eagle chose to portray the two candidates is startling. It's not that there are no awkward or unflattering incidents that could be used to introduce Jeff Longwell. There are many. Likewise, there are many positive aspects to Sam Williams that could have been used in his introduction, including feats of athleticism. These two articles illustrate, in my opinion, an effort to promote Longwell and dismiss Williams.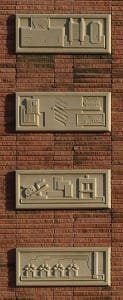 This is not the only recent incident regarding the Eagle newsroom that is troubling. In the campaign for the Wichita sales tax last year, The newspaper published a fact-check article titled "Fact check: 'No' campaign ad on sales tax misleading." There was no similar article examining ads from the "Yes Wichita" group that campaigned for the sales tax. Also, there was little or no material that examined the city's claims and informational material in a critical manner.
It's one thing for the opinion page to be stocked solely with liberal columnists and cartoonists, considering the content that is locally produced. But newspapers like the Eagle tell us that the newsroom is separate from the opinion page. The opinion page endorsed Jeff Longwell for mayor, just as it endorsed passage of the sales tax. As far as the newsroom goes, by failing to hold Longwell accountable for his remarks, by printing the two introductions illustrated above, and fact-checking one side of an issue and failing to produce similar pieces for the other side — well, readers are free to draw their own conclusions about the reliability of the Wichita Eagle newsroom.