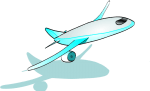 A survey by travel website CheapFlights.com shows that airfares in Wichita have both fallen and risen in recent years, even though the City of Wichita, Sedgwick County, and the State of Kansas collectively spend millions each year to keep airfares low.
The survey, according to a news release, ranks airports by "averaging the prices our users found during the month of June when searching for flights to popular domestic and international destinations like Miami, Honolulu, London and Cancun."
The news release warns that "These rankings can shift dramatically from year to year and prices fluctuate frequently on specific routes."
Since this is the fourth year for this survey, I thought it would be interesting to see how airfares in Wichita have fared over the timeframe of this survey. An interactive visualization is presented below.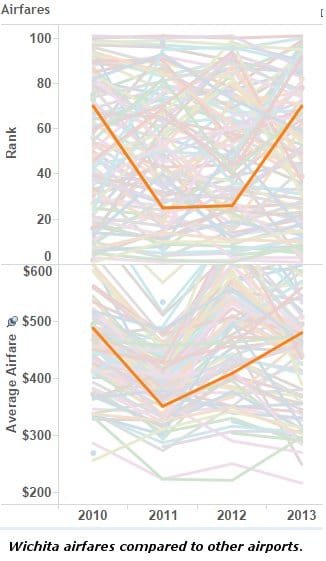 Here is an illustration of Wichita airfares compared to the other airports included in the survey, which for 2013 included the 101 most popular airports. You can see that based on the data gathered for this study, the average airfare declined, but then rose. Wichita's rank among airports rose, accordingly. (In the airfare rankings in this survey, a higher rank means higher airfares, relative to other airports.)
This data should inspire us to re-examine whether the taxpayer-funded effort to reduce airfares in Wichita has produced the desired result.
There have been other audits or studies which have questioned the efficacy of Wichita's airport subsidy program. See Affordable Airfares audit embarrassing to Wichita for an example.
I've created an interactive visualization from this data. Use the visualization below, or click here to open the visualization in a new window, which may work better for some users. Click on an airport name to highlight its fares against other airports. Use Ctrl+click to add other airports.
Data is from CheapClights.com. Visualization created by myself using Tableau Public.