By Joseph Ashby. Special to Voice for Liberty.
From FBI bomb plots to seven-story toddler trick shots to an unlikely final four run, Kansas kept our attention in 2013. Here is a countdown of the state's top stories this year.
#10 – Trick Shot Titus
The basketball-shooting toddler from Derby, Kansas had the 4th most watched YouTube sports video of 2013 (for good measure "Trick Shot Titus 3," which missed the December 1 cutoff, is now the 5th most watched sports video of the year), and represented Kansas on the Today Show, Jimmy Kimmel Live and a host of other television shows and commercials. The videos prominently show local landmarks like Keeper of the Plains and include Wichita State head coach Gregg Marshall.
#9 – Mayor Votes to Forgive Fishing Buddy's Taxes
Wichita Mayor Carl Brewer came under fire when a his long-standing practice of voting on large financial favors for friends and donors came into sharp focus when a picture surfaced of the mayor with Key Construction head honcho David Wells. Bob Weeks of Wichita Liberty and Jared Cerullo of ABC affiliate KAKE news pressured Brewer to explain the ethics of his actions, a request Brewer largely ignored.
#8 – Legislators Push Back Against Brownback, Session Goes Into OT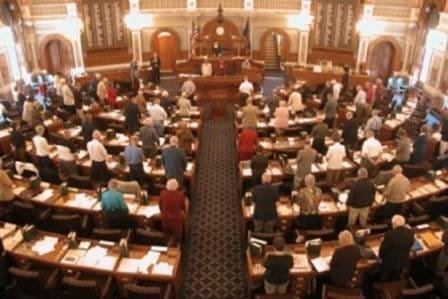 One of the primary media criticisms after conservative Republicans, aided by endorsements from Governor Sam Brownback, swept into majorities in the Kansas House and Senate was that Brownback policies would get a rubber stamp. The actual legislative session took a different course as legislators pushed back against the governor and struggled to find agreement on the state sales tax rate and spending priorities. The result of the strife was an overtime session of nine days.
#7 – The Seacat Trial
The former Sedgwick county sheriff's deputy Brett Seacat's murder trial was Kansas' contribution to a the spate high profile criminal trials of 2013 (Jodi Arias, George Zimmerman etc.). The two week trial drew more national media with each day of testimony. Seacat was eventually found guilty of murdering his wife and setting their home on fire.
#6 – Appellate Judge Nominating Power Given to Governor
After years of high-profile rulings from the Kansas court system which counter-acted the legislature, the house, senate and governor decided to change the method for selecting appellate court judges. Instead of bar-appointed nominating commission giving the governor three choices, the governor will now pick appellate judges. The nominees will be subject to senate confirmation.
#5 – Aerospace Upheaval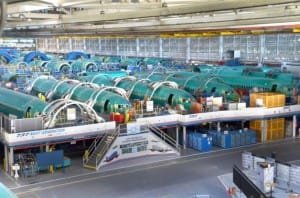 Hawker Beechraft ceased to exist as it came out of bankruptcy as Beechcraft Corporation. The Company's employment levels in Wichita reached their lowest levels in years and the company was eventually purchased by Cessna parent company Textron.
Across town Spirit Aerosystem executed its first mass layoffs in the company's history, letting go hundreds of engineers and other office employees and divesting from its Tulsa facilities.
#4 – Terrorist Plot Hatch/Foiled by FBI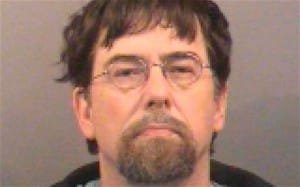 Two prevailing stories emerged from the FBI sting which caught terror suspect Terry Loewen. First, the realization that someone from Kansas, who graduated from a local high school drove what he believed was a bomb-filled truck to Mid Continent airport in order to blow up as many people as he could. Second was the FBI's methods, which led many to believe the government engaged in entrapment.
#3 – Gannon v. Kansas, School Funding Lawsuit.
The state supreme court heard oral arguments from school districts and parents suing for more state base aid per pupil and from the state's elected branches seeking to regain their authority over the people's money. Transcripts from both the district and supreme court oral argument often read like partisan debates reminiscent of legislative committee. The district court ruled in favor of the plaintiffs, the supreme court has yet to issue their ruling.
#2 – Obamacare in Kansas (Plan Cancellations, Medicaid Expansion, the State Exchange)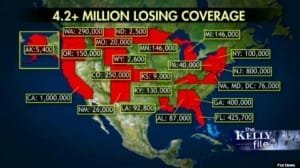 Many Kansans did everything in their power to prevent, stop, repeal and defund the Affordable Care Act, but that didn't stop Obamacare from prying its way into the state. New health policy mandates from the Obama administration have or will invalidate thousands of plans currently held by Kansans.
Governor Brownback declined to set up a state-run Obamacare website, leading Kansans who desired to sign up to use the historically disastrous healthcare.gov.
Through it all, Republican state insurance commissioner Sandy Praeger remained loyal to the program, claiming the ACA is an improvement over the prior system.
Brownback and the state legislature also declined to expand the state's Medicaid program as prescribed by the act despite building media criticism, the hospital lobby's insistence and other "red state" Republicans expanding their Medicaid programs.
#1 – Wichita State Final Four Run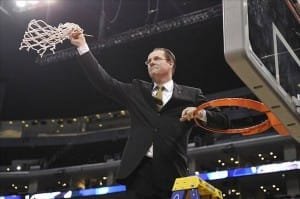 In what was supposed to be a down year following a disappointing NCAA tournament upset (at the hands of 12-seed VCU), the Wichita State Shockers got off to hot regular season start only to limp down the stretch, fighting injuries, struggling with non-tournament-bound opponents and unable to overcome the Creighton Bluejays. The Shockers entered the tournament as a 9-seed, were a slight underdog in their opening round game, and saw most of the state's sports headlines go to their automatic qualifier conference counterparts Kansas Jayhawks and Kansas State Wildcats.
The Gregg Marshall-coached squad proceeded to go on one of the most improbable tournament runs in history, becoming the 5th lowest seed ever to make the final four.
Wichita State's trip to the Final Four was accompanied by one of the greatest team mantras in recent memory. The Shockers "Play Angry" rallying cry perfectly matched the team's style of play and the attitude of players and coach alike.