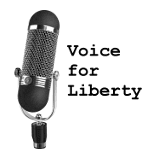 In this episode of WichitaLiberty Podcasts: Mike O'Neal, who is president and CEO of the Kansas Chamber of Commerce, spoke yesterday to the Wichita Pachyderm Club. A large part of his talk was on the topic of Kansas school finance and other education topics. This podcast contains that portion of his speech.
O'Neal graduated from Kansas University and also its law school. He served in the Kansas House of Representatives for 28 years, with his final four years as Speaker of the House. He joined the Kansas Chamber as President and CEO in 2012 as he retired from the legislature.
This is podcast episode number 4, released on January 18, 2014.
[powerpress]
Shownotes
Kansas Chamber of Commerce
Mike O'Neal at Wikipedia
Mike O'Neal at LinkedIn
Mike O'Neal biography at Kansas Chamber
The Gannon opinion
Kansas school topics from Voice for Liberty
Kansas State Department of Education
Kansas Policy Institute