Kansas Republican primary voters made two good decisions this week.
Kansas held primary elections this week. The primary election, of course, does not determine who wins the office; it only selects one Democratic and one Republican candidate to move forward to the November general election. But in many cases, the primary is the election, at least the one that really makes a difference. That's because in Kansas, often there may be no Democratic Party candidate. Or if there is a Democrat, that candidate may have little money available to campaign in a district with a large Republican voter registration advantage.
It's important to note that some candidates who will appear on the general election ballot in November did not appear on any primary election ballot. That's because parties other than Democratic and Republican select their candidates in a convention. In particular, there are two prominent candidates in this category. One is Keen Umbehr, the Libertarian Party candidate for governor. The other is independent candidate Greg Orman, who is running for United States senator. Both are serious candidates that deserve consideration from voters.
Let's take a look at a few results from the primary election.
United States Senate

In the contest for the Republican Party nomination for United States Senate, Pat Roberts won, receiving 48 percent of the vote. He moves on to face not only the Democratic nominee, but also an independent candidate who is already advertising on television. The problem Roberts faces going forward is the fallout from his scorched-earth campaign. He went negative against Milton Wolf from the start, focusing on issues that are worth considering, but quite trivial considering the big picture.

Roberts ran an advertisement near the end of the campaign that took Wolf's words grossly out of context, and Roberts should be ashamed for stooping to that level. Another thing Roberts can be ashamed of is his refusal to debate opponents. He said he would debate. He should debate. It's a civic obligation. He also largely avoided news media.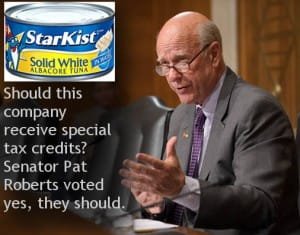 During the campaign, I was critical of Roberts. I looked at votes he had taken while in the Senate. I looked at the way he ran his campaign. I was critical. I hope that I kept my criticism based on — and focused on — facts and issues. But another problem Roberts has is the behavior of his supporters, both official and unofficial. They too ran a scorched-earth campaign.

I'd like to show you some of the posts made on Facebook and Twitter about Wolf and his supporters, but this is a family-oriented blog. Roberts will need the support of all Kansas Republicans in the general election. He needs to hope that they don't peel off to the Democrat or Independent candidates. Roberts needs all Kansas Republicans to vote, and vote for him. But the behavior of his campaign and its supporters has harmed Republican party unity. What's curious to me is that I don't think they realize the harm they have caused.
United States House of Representatives, district 4

For United States House, fourth district, which is Wichita and the surrounding area, incumbent Mike Pompeo won over Todd Tiahrt, 63 percent to 37 percent. This contest was curious for a number of reasons, such as the former holder of the office seeking it again, and running against a man he endorsed twice. It attracted national attention for that reason, but also for something more important: Tiahrt was advocating for a return to the practice of earmarking federal spending. Tiahrt concentrated a few issues in a campaign that was negative from the start.
Tiahrt claimed that Pompeo voted to support Obamacare seven times. But everyone who examined that claim, including several political science professors, said it was unfounded, going as far as saying it broke the truth entirely. The Tiahrt campaign also took a speech Pompeo had made on the floor of the House of Representatives and used just one sentence of it in a deceptive manner. The campaign also took a bill that Pompeo introduced — having to do with GMOs — and twisted its meaning in order to claim that Pompeo doesn't want you to know the ingredients used in food. Tiahrt criticized Pompeo for missing some votes during the campaign, even though Tiahrt had missed many votes during his own campaign four years ago.
In the face of these negative ads, Pompeo remained largely positive. He released one television ad that rebutted the claims that Tiahrt had made. Is it negative campaigning to rebut the false accusations of your opponent? Pompeo had one ad that mentioned "goofy accusations" made by his opponent, which hardly qualifies as negative. Other than that, the Pompeo campaign remained largely positive. That is quite an accomplishment in today's political environment.
This campaign was also marred by vitriol among supporters. In my opinion, based on my observations, the Tiahrt supporters that engaged in this behavior have some apologies to make. Pompeo goes on to face a relatively unknown Democrat in the heavily Republican fourth district.
United States House of Representatives, district 1

For United States House, first district, which is western Kansas, although the district extends east enough to include Emporia and Manhattan, incumbent Tim Huelskamp was challenged by Alan LaPolice. Huelskamp won with 55 percent of the vote. Huelskamp had faced criticism for not being supportive of various subsidy programs that benefit farmers, most notably for ethanol. Outside groups joined the race, running ads critical of Huelskamp for that reason. Some ads were critical of Huelskamp for being removed from the House Agriculture committee, that move seen as retaliation for not supporting Speaker of the House John Boehner. Huelskamp now moves on to face a Kansas State University history professor who was also the mayor of Manhattan.
The meaning of these results
What do these results mean? These three elections — Senate and two House contests — attracted national attention. The Friday before the election, Kimberly Strassel wrote in the Wall Street Journal of the importance of the fourth district contest. She wrote:
A big decision comes Tuesday in the Kansas GOP primary. The Sunflower State is in the throes of political upheaval, with most of the attention on the fortunes of Gov. Sam Brownback and Sen. Pat Roberts. But the race that may say far more about the direction of the GOP is taking place in Wichita, the state's Fourth District, in the standoff between Rep. Mike Pompeo and challenger Todd Tiahrt.

Pompeo was elected in the 2010 tea party surge, with a particular focus on liberating private enterprise. He's made a name for himself as a leader in the fight to end corporate welfare and pork, and to cut back on strangling regulations.
After detailing some legislative activity and accomplishment, Strassel noted the difficulty that fighters for economic freedom encounter: She wrote "Such principles are precisely what conservative voters claim to demand from their representatives. Yet the antisubsidy line has hardly been an easy one, even in conservative Kansas — which collects its share of federal largess. And Mr. Tiahrt knows it."
Continuing, she wrote: "The choice voters fundamentally face on Tuesday is whether they want a congressman who works to get government smaller for everyone and to end corporate welfare, or a congressman who grabs what he can of big government to funnel to his district, and embraces crony capitalism. The latter is a return to the unreformed GOP, a groove plenty of Republicans would happily slide back into — if only voters gave the nod. We'll see if Kansas conservatives do."
There's something there that bears repeating: "Such principles are precisely what conservative voters claim to demand from their representatives." In the case of Huelskamp and Pompeo, voters supported two candidates who have these principals, and who follow them. In the United States Senate contest, that almost happened.