In normal times, Republicans may be reluctant to vote for a Democrat for the Sedgwick County Commission. But these are not normal times, and a vote for Pete Meitzner sends a message that we just don't care about our economy.
If you've been following analyst James Chung — and it seems like everyone has — he's delivered a sobering message: The Wichita economy has not been growing. "[Wichita has been] stuck in neutral for about three decades, with basically no growth, amidst the landscape of a growing U.S. economy," he said. (In 2017 the Wichita economy shrank from the previous year.)
Chung says we need to change our ways. In his June visit he said, and the Chung Report wrote, "Every market signal points to the same conclusion: The manner in which Wichita is operating during this critical point in our history is just not working."
So what needs to change? Chung doesn't say, but here are two things:
First, there are some elected officials and bureaucrats who have presided over the stagnation of the Wichita-area economy. These people need to go.
Second, there are also institutions that are problems, with one glaring example. In one way or another, the Wichita Regional Chamber of Commerce has taken the lead in economic development for many years. In recent years the Chamber ran Greater Wichita Economic Development Coalition. Now the effort has been split off to a non-profit corporation, the Greater Wichita Partnership.
That sounds good, but under the hood it's the same leadership and the same methods, although with a few new hired hands.
So when James Chung (and others) says our manner of operation is not working, it's the Wichita Chamber of Commerce and its ecosystem that must assume a large portion of blame.
That Chamber ecosystem is pumped up and funded by the City of Wichita and Sedgwick County. Bureaucrats and elected officials on those bodies who have supported these economic development efforts must be dismissed.
At the top of this list is Wichita City Council Member Pete Meitzner (district 2, east Wichita). He's running as a Republican for an open position on the Sedgwick County Commission in east Wichita.
Why should voters reject Pete Meitzner? That's a good question, because on his campaign web page he promotes his experience: "Pete's seven years on the City Council has proven to be a large part of the positive momentum we have recently experienced."
He's endorsed by the retiring county commissioner he seeks to replace. Again, from his campaign page, there's this from Sedgwick County Commissioner Dave Unruh: "Pete displays leadership that produces results. We need to only look to the City of Wichita's recent successes to see the type of leadership Meitzner is capable of. His enthusiasm and business-minded approach to challenges has greatly helped create the positive momentum that Wichita experiences today. Sedgwick County needs Meitzner's leadership."
Let's compare these claims to the record. Nearby is a chart of nonfarm jobs in the Wichita metropolitan area. I've identified when Unruh and Meitzner took office. As you can see, when Unruh took office there had been a downturn. But the Wichita economy improved, although slower than the national economy.
When Meitzner took his position on the city council, there had also been a downtown. The national economy recovered. But the Wichita-area economy has not recovered. As time passes, the gap between the Wichita and national economy grows.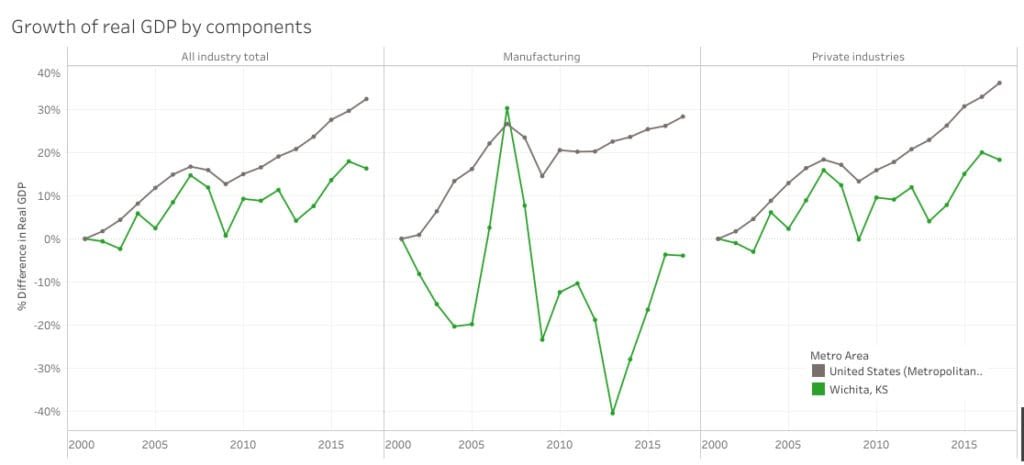 There are other indicators besides jobs that illustrate the performance of the Wichita-area economy. Gross Domestic Product, the total value of everything produced, has fallen.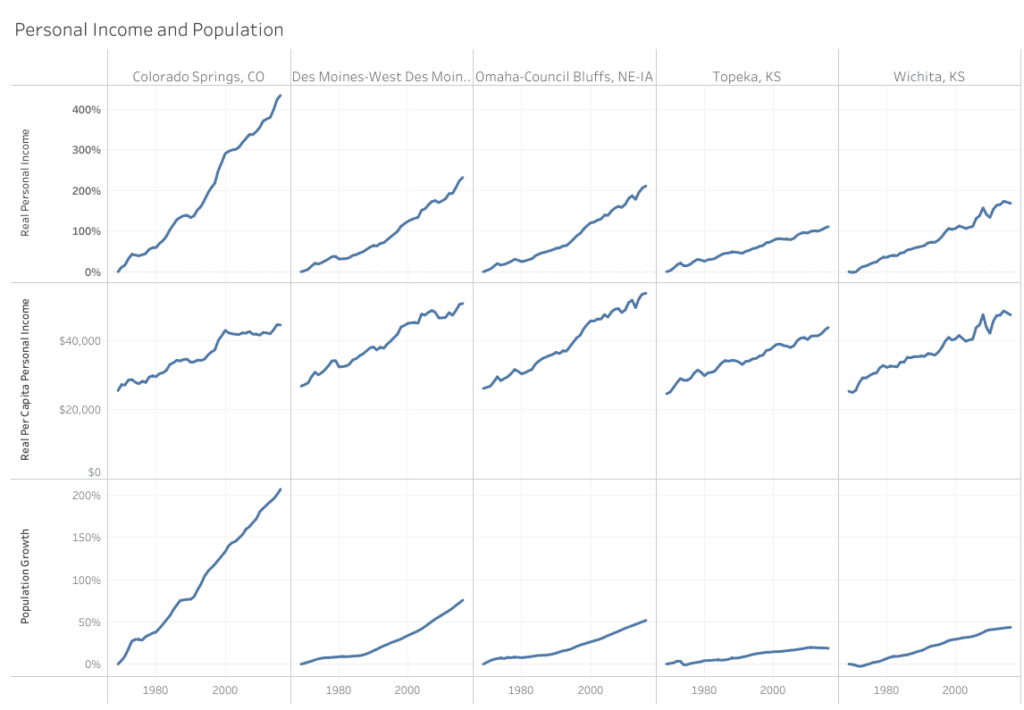 Real personal income fell in 2016, the last year for which there is data. Over the years, its growth in Wichita has been slower than most other areas.
To see how others evaluate the Wichita-area economy, consider the Brookings Institution Metro Monitor. From Brookings you can also learn that Wichita exports are falling.
Is the record of Dave Unruh relevant when considering whether to vote for Pete Meitzner? Yes. Meitzner praises Unruh's record: "His (Unruh's) legacy of 16 years of professionalism … has been many successes and often the calm in the storm that's been of recent," Meitzner said. "There's a strong feeling in the community that what we're doing in the city and in the region is really moving in the right direction. I can help the county have our oars in the water going the same way as the whole region." ("Wichita City Council member hopes to become calming force on County Commission" Wichita Eagle, February 13, 2018.)
Except: the legacy of Unruh in economic development is stagnation and falling behind, as is Meitzner's record on the city council. As for "professionalism" and "calm in the storm," we must take notice that the FBI is investigating Unruh for "potential obstruction of justice based on possible whistleblower retaliation." ("FBI investigating possible obstruction of justice in Sedgwick County Commission" Wichita Eagle, October 23, 2018.)
Despite all the evidence, Meitzner is running on his record. His campaign literature says he is committed to "Maintaining his track record of successful ECONOMIC DEVELOPMENT." He praises the Wichita city manager, the city bureaucracy, and our economic development machinery for doing a good job. He believes these are doing the right thing.
This demonstrates another problem. Besides presiding over our region's poor economic performance, Meitzner (and Unruh) do not acknowledge the problem. To them, there is "momentum." We're "really moving in the right direction," Meitzner says.
For someone to say these things, they must be either blissfully ignorant, a blatant liar, or someone who wants to be in office so badly that they'll say anything to be elected.
Republicans may be reluctant to vote for a Democrat for the Sedgwick County Commission. In normal times, I am too. But these are not normal times, and a vote for Pete Meitzner sends a message that we just don't care about our economy.