The City of Wichita says it does not want to use cash incentives for economic development. But a proposal contains just that.
Update: The council did not approve this project, by a vote of four to three.
This week the Wichita City Council will consider a package of incentives for the developer of a large downtown building, the Finney State Office Center. While the city has said that it does not want to use cash incentives, they are proposed for this project.1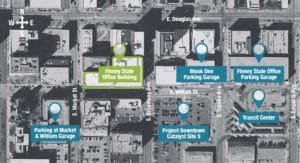 Elements of the proposal are these:
The Wichita Public Building Commission will sell the building for $100,000.
The project is also asking for the city to issue Industrial Revenue Bonds. Despite the use of the term "bond," the city is not lending money to anyone. Someone else will purchase the bonds. Instead, the IRBs are a vehicle for conveying property tax abatements and sales tax exemptions.
In this case, the developer requests a sales tax exemption for purchases during the renovation. City documents don't give a value for the sales tax that might be exempted. But the developer has requested IRBs for an amount up to $35,000,000. Therefore, a sales tax exemption might be worth up to $2,625,000, depending on the price of taxable products and services purchased, and the sales tax rate at the time.
If someone excuses you from paying millions in sales tax, that's better than receiving cash. But cash incentives are proposed, too. The city proposes a grant of up to $2,000,000, although the city calls this an "investment."2
Whatever it is called, this is a cash incentive.
Also, the Wichita Public Building Commission will pay up to $1,000,000 for improvements to the building.3
This proposed payment from the WPBC seems to be in violation of the city statutes governing the commission, which read: "Under no circumstances shall any income of the public building commission inure to the benefit of any private person."4
I'm sure the city will characterize its $2 million "investment" in some way other than a cash incentive. The city will also say the $1 million from the WPBC is not from the city, which is true. But the city will have to rationalize allowing the commission to violate the clear language of its statutes.
There are some good aspects of this agreement with the developer, such as a timeline and performance bond requirement. But the cash incentives are against stated city policy and its laws.
—
Notes