Wichita will soon select a new city attorney. There are a few questions we ought to ask of candidates, such as: Will the next city attorney advise council members to refrain from making decisions worth millions to their friends and significant campaign contributors?
Two years ago as the Wichita City Council prepared to handle the appeal of the award of a
construction contract, the Wichita Eagle editorialized that "appearance matters" on city contracts: "There will be an elephant in the Wichita City Council chambers today as Mayor Carl Brewer and the rest of the council formally consider Dondlinger and Sons' long-shot final appeal of its loss of the contract to build the new airport terminal — the close ties of Brewer and other City Council members to Key Construction, including a letter Brewer wrote last year recommending Key to build the Cabela's store in northeast Wichita." (Eagle editorial: Appearance matters on city contracts, July 17, 2012)
The Eagle probably didn't know at that time what we learned a short while later: There was
unusual interest in Michigan about the airport contract decision, and the campaign bank account of Wichita City Council Member Jeff Longwell benefited financially.
On July 16, 2012 — the day before the Wichita City Council heard the appeal that resulted in Key Construction winning the airport contract — John Rakolta, Chairman and Chief Executive Officer of Walbridge and his wife contributed $1,000 to Longwell's campaign for Sedgwick county commissioner. Walbridge is a Michigan-based construction company that is partnering with Key Construction on the airport job. The contract is worth about $100 million.
Then on July 20, three days after the council's decision in favor of Key/Walbridge, other Walbridge executives contributed $2,250 to Longwell's campaign. Key Construction and its executives contributed $6,500 to Longwell's county commission campaign, and they've also been heavy contributors to Longwell's other campaigns.
It is wrong to accept thousands in contributions from those who benefit directly from your vote. In many states it is illegal. But not in Kansas. Though legal, the timing of these contributions to Longwell's campaign is indelicate.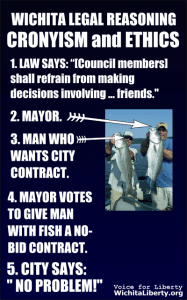 The political influence of Key Construction and its partners extends beyond campaign contributions. Mayor Brewer's personal Facebook profile has a photo album holding pictures of him on a fishing trip with Dave Wells of Key Construction.
Should the Wichita City Council have made the decision on the airport contract? City documents did not indicate whether the hearing was of a quasi-judicial nature, as it is sometimes when the council rules on certain matters involving appeal of decisions made by city authorities. But the council was asked to make decisions involving whether discretion was abused or whether laws were improperly applied.
That sounds a lot like the role of judges. In 2009 the U.S. Supreme Court ruled that, in the words of legal watchdog group Judicial Watch, "… significant campaign contributions or other electoral assistance pose a risk of actual bias. Writing for the majority, Justice Anthony Kennedy said: 'Just as no man is allowed to be a judge in his own cause so too can fears of bias arise when a man chooses the judge in his own cause.'"
Judicial Watch also noted "The ruling will likely affect judges in 39 states that elect them — including Washington, Texas and California — from presiding over cases in which their campaign contributions could create a conflict of interest. The nation's judicial code has long said that judges should disqualify themselves from proceedings in which impartiality might reasonably be questioned, but the Supreme Court ruling is the first to address hefty election spending."
The mayor and council members are not judges. But they were asked to make a judge-like decision. If held to the same standards as the U.S. Supreme Court says judges must follow, Mayor Brewer and the five council members who accepted campaign contributions from Key Construction should not have participated in the decision on the Wichita airport construction contract. A similar argument can be made for city manager Robert Layton and all city employees. Directly or indirectly they serve at the pleasure of the council.
Question: Did the outgoing city attorney advise the mayor and council members on this topic? We'll probably never know due to attorney-client privilege. But a good question to ask city attorney candidates is how they would advise council members if another matter like this comes before the council.