When Wichita ABC affiliate KAKE Television ran a news story critical of Wichita Mayor Carl Brewer, reporter Jared Cerullo wasn't able to interview Brewer to get his reaction to his critics. The mayor refused to talk to Cerullo.
[powerpress url="http://wichitaliberty.org/wp-content/uploads/2013/05/jeff-herndon-2013-05-17-excerpt1.mp3″]Jeff Herndon, KAKE Television news anchor, speaking at Wichita Pachyderm Club, May 17, 2013. Herndon is speaking for himself, and not on behalf of KAKE.
Speaking last week at the Wichita Pachyderm Club, KAKE news anchor Jeff Herndon said that KAKE has "repeatedly" tried to get an on-camera interview with Brewer. But the mayor is always busy, Herndon said: "They've got him on lockdown. He's not going to answer that."
Herndon was speaking for himself, and not for his employer. In his talk to the Pachyderms, he was critical of Wichita news media — both television and print — for not covering city government rigorously, telling the audience: "We need more reporters on that city government beat, and not just on decisions they make. We need to hold them accountable for the decision. We don't do that."
Brewer is sometimes mentioned as a candidate for higher office, perhaps challenging Kansas Governor Sam Brownback next year. Brewer's term as mayor ends in April 2015. He is not eligible for election to another term as mayor because of Wichita's term limits law.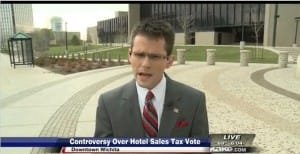 Notes: