The City of Wichita lost 1,052 in population from 2017 to 2018, a decline of 0.27 percent.
Data released today by the United States Census Bureau shows the City of Wichita losing population from July 1, 2017, to July 1, 2018. 1
The bureau's estimate of city population on July 1, 2018 is 389,255. This is a decline of 1,052 (0.27 percent) from the year before. These are populations of cities, not metropolitan areas, although the Wichita metropolitan area also lost population. 2
The estimate of population on July 1, 2017 was revised from 390,591 to 390,317, meaning that for 2017, Wichita population declined by 242 from the July 1, 2016 population of 390,509.
With the revised 2017 figure, Wichita has had two years of declining population, as can be seen in the nearby chart.
While Wichita lost 0.27 percent of its population in one year, the top 100 cities gained 0.51 percent. Since 2010, Wichita has grown by 1.71 percent, while the top 100 cities grew by 7.57 percent.
Wichita is the fifty-first largest city, down from fiftieth the two prior years.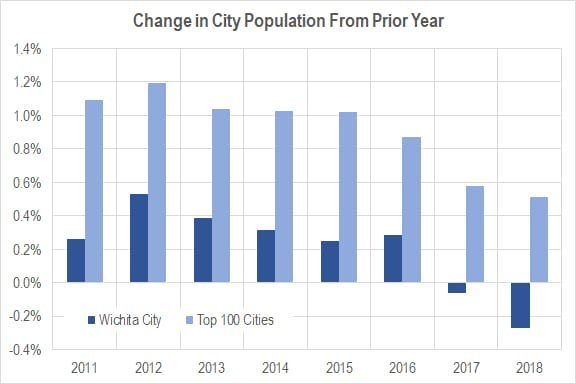 —
Notes