This week Kansas Policy Institute released a study of regulation and its impact at the state and local level. This is different from most investigations of regulation, as most focus on federal regulations.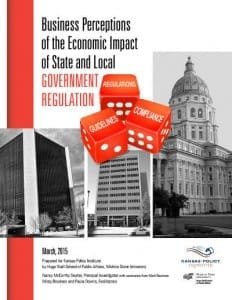 The study is titled "Business Perceptions of the Economic Impact of State and Local Government Regulation." It was conducted by the Hugo Wall School of Public Affairs at Wichita State University. Click here to view the entire document.
Following is an excerpt from the introduction by James Franko, Vice President and Policy Director at Kansas Policy Institute.
Surprising to some, the businesses interviewed did not have as much of a problem with the regulations themselves, or the need for regulations, but with their application and enforcement. Across industries and focus group sessions the key themes were clear — give businesses transparency in what regulations are being applied, how they are employed, provide flexibility in meeting those goals, and allow an opportunity for compliance.

Sometimes things can be said so often as to lose their punch and become little more than the platitudes referenced above. The findings from Hugo Wall are clear that businesses will adapt and comply with regulations if they are transparent and accountable. Many in the public can be forgiven for thinking this was already the case. Thankfully, local and state governments can ensure this happens with minimal additional expense.

A transparent and accountable regulatory regime should be considered the "low hanging fruit" of government. Individuals and communities will always land on different places along the continuum of appropriate regulation. And, a give and take will always exist between regulators and the regulated. Those two truisms, however, should do nothing to undermine the need for regulations to be applied equally, based on clear rules and interpretations, and to give each business an opportunity to comply.