Wichita city council member Lavonta Williams (district 1, northeast Wichita) is a supporter of the proposed one cent per dollar Wichita sales tax. She has also spoken of her concern for Wichita's low-income families, as she did in November 2013 when the Wichita City Council voted to increase water rates. City documents indicated that the average residential bill would rise by $1.33 per month for those who use modest amounts of water.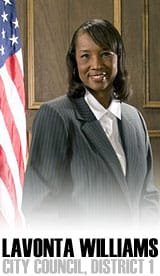 According to the meeting minutes, Williams said this:
Council Member Williams stated she realizes that some may think that $1.33 is not that big of an increase, but for so many of our constituents, it is quite an increase for them especially those who are on a fixed income. Stated this is concerning to her and appreciates staff looking at all options and are kicking off a program that will help those who need assistance from the City. Stated she realizes as a City that we have to continue moving forward and look at our infrastructure.
I wonder: When Williams voted in favor of the Wichita sales tax ballot placement, did she understand that anyone who spends $133.00 per month on taxable purchases will see a $1.33 rise in their monthly sales tax expense? Recall that Kansas applies sales tax to food, although there is a possibility of receiving a rebate. The rebate is implemented through a nonrefundable income tax credit.
Here's something else: Since Williams applauded the formation of a payment assistance program for those who can't afford their water bills, I wonder if she will propose a similar program for those who can't afford a higher sales tax?