Even if we accept the measure of jobs used by the City of Wichita, the trend is in the wrong direction. Citizens should ask for truth and accountability.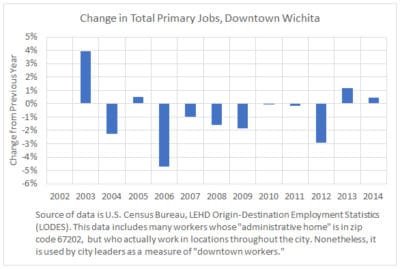 The City of Wichita and its surrogates tell us there are 26,000 daytime workers in downtown Wichita, defined as zip code 67202. There is a serious problem with that number, as it includes workers whose "administrative home" is downtown, even though they work somewhere else.1 The largest example of this is the counting of all Wichita school district employees as downtown workers, even though almost all work in schools and other locations throughout the city.
But even if we use the statistic promoted by the Wichita Downtown Development Corporation, the trend in jobs is in the wrong direction. WDDC promotes the large investment in downtown Wichita, by both private and public sources. But employment is trending in the opposite direction.
As Wichita considers other large downtown investments, such as STAR bond financing for the west bank of the Arkansas River or a new convention center and performing arts center, we should ask at least two questions:
Can we depend on the city to use meaningful and truthful data?
Will the city recognize the lackluster results of its economic development efforts?
Shouldn't we insist on progress in projects like Block One before proceeding elsewhere?2
—
Notes