Are the City of Wichita's projections regarding subsidized development as an economic driver believable?
This week the Wichita City Council will consider a project plan for a STAR bonds district near Downtown Wichita. These bonds divert future incremental sales tax revenue to pay for various things within the district.1
City documents promise this: "The City plans to substantially rehabilitate or replace Lawrence Dumont Stadium as a modern multi-sport stadium as part of a larger project to develop the river and stadium areas. … Combined, the museum, pedestrian bridge, waterfront improvements and multi-sport stadium will generate significant new visitor tourism as well as provide signature quality of life amenities for the citizens of Wichita and the region."2
We've heard things like this before. Each "opportunity" for the public to invest in downtown Wichita is accompanied by grand promises. But actual progress is difficult to achieve, as evidenced by the lack of progress in Block One.3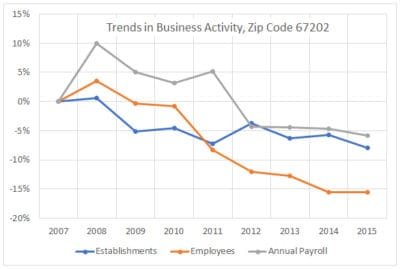 In fact, change in Downtown Wichita — if we're measuring the count of business firms, jobs, and payroll — is in the wrong direction, despite public and private investment.4
Perhaps more pertinent to a sports facility as an economic growth driver is the Intrust Bank Arena. Five years ago the Wichita Eagle noted the lack of growth in the area.5 Since then, not much has changed. The area surrounding the arena is largely vacant. Except for Commerce Street, that is, and the businesses located there don't want to pay their share of property taxes.6
I'm sure the city will remind us that the arena was a Sedgwick County project, not a city project, as if that makes a difference. Also, the poor economic performance cited above is for Downtown Wichita as delineated by zip code 67202, while the proposed STAR bond project lies just outside that area, as if that makes a difference.
By the way, this STAR bonds district is an expansion of an existing district which contains the WaterWalk development. That development has languished, with acres of land having been available for development for many years.
—
Notes